Early Learning Programme
Early Learning Programme (ELP)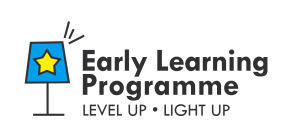 The ELP is an intervention-based, volunteer-championed literacy and numeracy programme.  It started as a pilot in 2014 at Care Corner FSC* (Queenstown) for 16 six-year olds living in the vicinity. They came from low-income, multi-challenged families that did not speak English at home.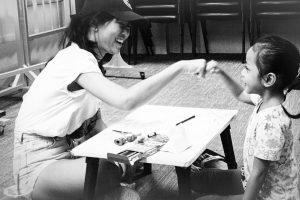 Despite attending preschool, the children had not yet mastered basic literacy and numeracy.  Several had learning difficulties and all of them needed more individual attention and tailored learning.  We realized that if no intervention had been provided, many of these children would have fallen behind their peers when they entered Primary School.
Through the years, the ELP was iteratively improved and extended to multiple charities, thanks to generous donor support.  It has touched the lives of close to 400 children since inception.
THE ELP DIFFERENCE
The ELP's in-house curriculum was developed with support from Literacy Therapist Sharon Yeoh and Educational Psychologist Adeline Chin.  It comprises a balanced literacy programme that uses an Orton-Gillingham approach as well as manipulative-heavy Numeracy activities.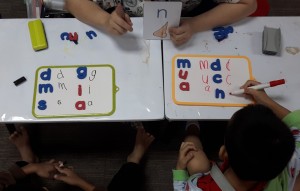 Children are tested at baseline, mid-term and year-end to determine their needs and progress. Volunteers are matched to children on a maximum 1 volunteer: 2 children ratio, and lesson plan for their students based on their knowledge gaps and preferred learning styles.
Children that display signs of learning or other difficulties are referred to our volunteer Speech Therapist, Occupational Therapist or/and consulting Literacy Therapist and Educational Psychologist for screening and assessments.
A TYPICAL SESSION
Children are bused to a host charity every Saturday morning and provided with breakfast.  The lesson starts with a group teaching session, followed by one-hour solo lessons involving multi-sensory exercises, tools and reading books selected to match the child's level and progress.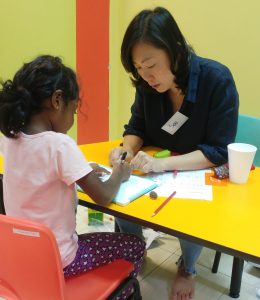 The children then have 45 minutes of Group Play aimed at developing their social interaction and gross motor skills.  Since 2018, we partnered with National Library Board to incorporate their KidsRead programme into the Group Play period.  Prior to COVID, we included gym, music and other activities through our corporate partners.  Where COVID-19 regulations allowed, the children also went for outings and have in-house mini carnivals.
GROWING OUR REACH
In 2017, in addition to our first partner, Care Corner FSC (Queenstown), we reached out to Prison Fellowship Singapore (2017 – present), Beyond Social Services (2017 – present), and Singapore Anglican Community Services' Family Care Centre (2017) to provide the ELP to the children they serve.
In 2018, FaithActs (2018 – present) came on board. In 2020-2021, Kampong Kapor Family Service Centre (2020 – present), Filos Community Services (2021) and The Hut (2021) also took on the ELP.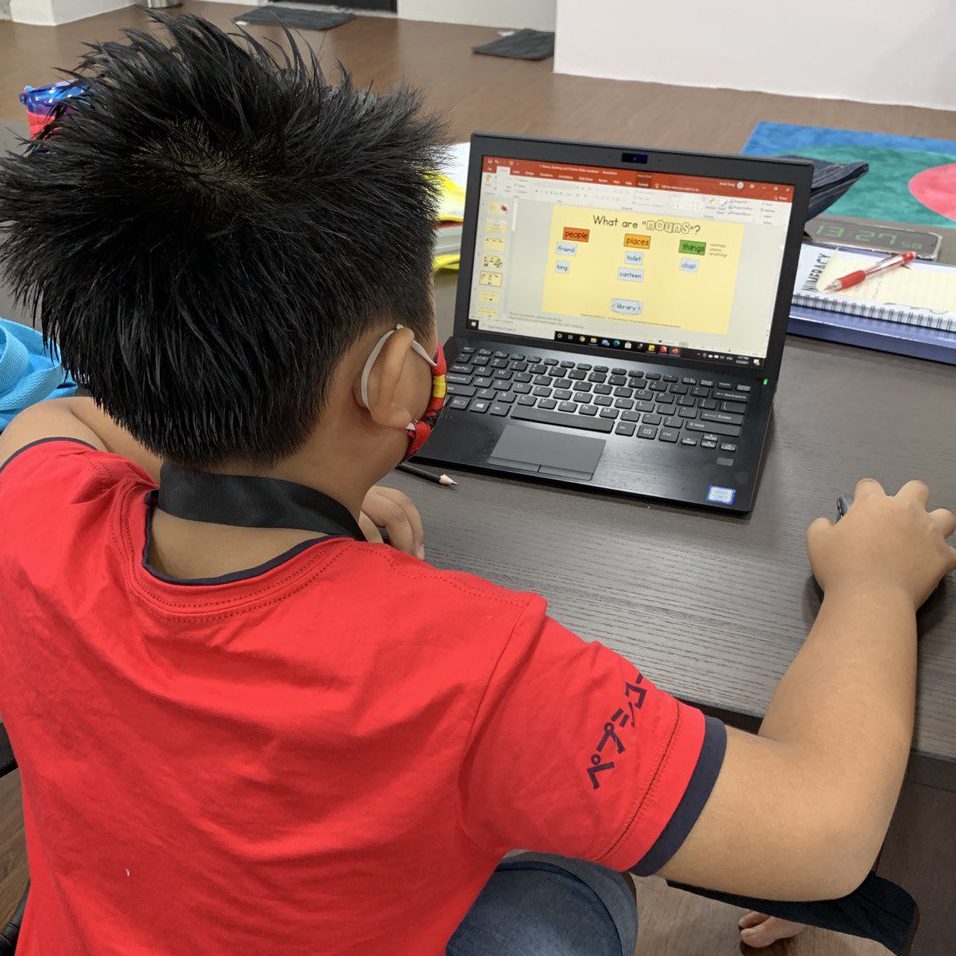 Since 2020, with restrictions resulting from the COVID-19 outbreak, we moved ELP online with the support of:
Learning Vessels, our programme management partner, who created an online training resource for the volunteers, electronic teaching materials and sent out hard copy materials to the volunteers and children,
Our charity partners who helped to identify families with children that could participate in this online arrangement, and who coordinated with the families and volunteers to enable lessons to start, and
Engineering Good and other VWOs/donors who provided devices to families without them so that the children could have weekly 1:1 lessons with their volunteers via Zoom.
Since 2021, the various ELP sites have begun operating in hybrid modes – with a blend of both online and onsite classes.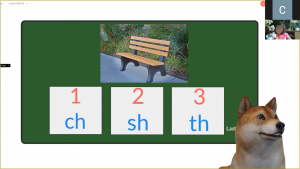 Visit our Facebook page for our programme updates!
*FSC = Family Service Centre
Our Partners
Care Corner Family Service Centre (Queenstown) was our pioneer ELP site and were wonderful partners from 2014 – 2016.  In 2017, ELP was launched in 4 centres – Prison Fellowship Singapore's Care Club sites, Beyond Social Services' Healthy Start Child Development Centre and Singapore Anglican Community Services' Family Care Centre, a Shelter for homeless women and children. We learnt about the different types of charities in Singapore we could partner with, and how we could try to expand the ELP's reach sustainably. We refined our training sessions, streamlined Literacy and Numeracy teaching tools, and put in place structure and processes for each site. A pilot Mother's English Literacy Programme was also trialed at the shelter.
In 2018 and 2019,  3 charities (Beyond Social Services, FaithActs and Prison Fellowship Singapore) ran ELP, across 4 sites.  We also piloted a more advanced programme (ELP+) in partnership with FaithActs and New Town Primary School to support students in Primary 2.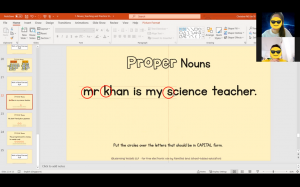 In 2020, although COVID-19 drastically changed the way things were run, we also welcomed Kampong Kapor Family Service Centre into the ELP family. In 2021, Beyond Social Services added on a new site and we also had 2 new partners, Filos Community Services and The Hut, bringing the total of ELP-partner charities to 6.  We continue to partner these charities in 2022.
See Prison Fellowship Singapore's Experience here: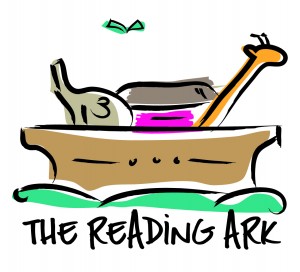 Sharon Yeoh, is a literacy therapist who has her own private practice, The Reading Ark.  She was an ex-MOE teacher and hence understands the primary school English curriculum.   She has an International Teaching Diploma in Dyslexia and Literacy from Dyslexia Action UK, and works individually with children with a range of learning difficulties including dyslexia and ADHD.  Her experience includes teaching children in pre-school to the primary years.
Sharon is our main literacy consultant for the ELP and is our partner in the development of the programme's literacy curriculum, teaching tools and materials and conduct of volunteer training.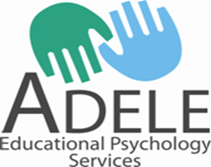 Adeline Chin is an Educational Psychologist, supervisor and Triple P parenting facilitator in private practice.  She is a Registered Psychologist of Singapore Registered Psychologists, International Affiliate Member of the Australian Psychological Society, and Full Member of the International Association of Applied Psychology (US).  She assesses and intervenes with children and adolescents that have developmental and learning issues such as autism, ADHD, dyslexia and overall underachievement.  She has 20 years of experience working with parents, teachers, children and adolescents in various settings, such as special, mainstream and international schools, Voluntary Welfare Organisations, Boys', Girls', and Children's Homes, hospitals as well as private centres.
Adeline is our consultant Educational Psychologist for the ELP. She advised us our curriculum, assessments as well screening checklists.  She also screens and assesses ELP participants who display persistent signs of learning difficulties throughout our 10-month programme.
Our Volunteers
We have been blessed to have many volunteers that started their first volunteering experience with ELP and continued with the programme beyond their first year.  Through the years, our volunteers continued increasing to more than 100 volunteers since ELP 2020, demonstrating that the spirit of volunteerism did not dampen even in the face of COVID-19.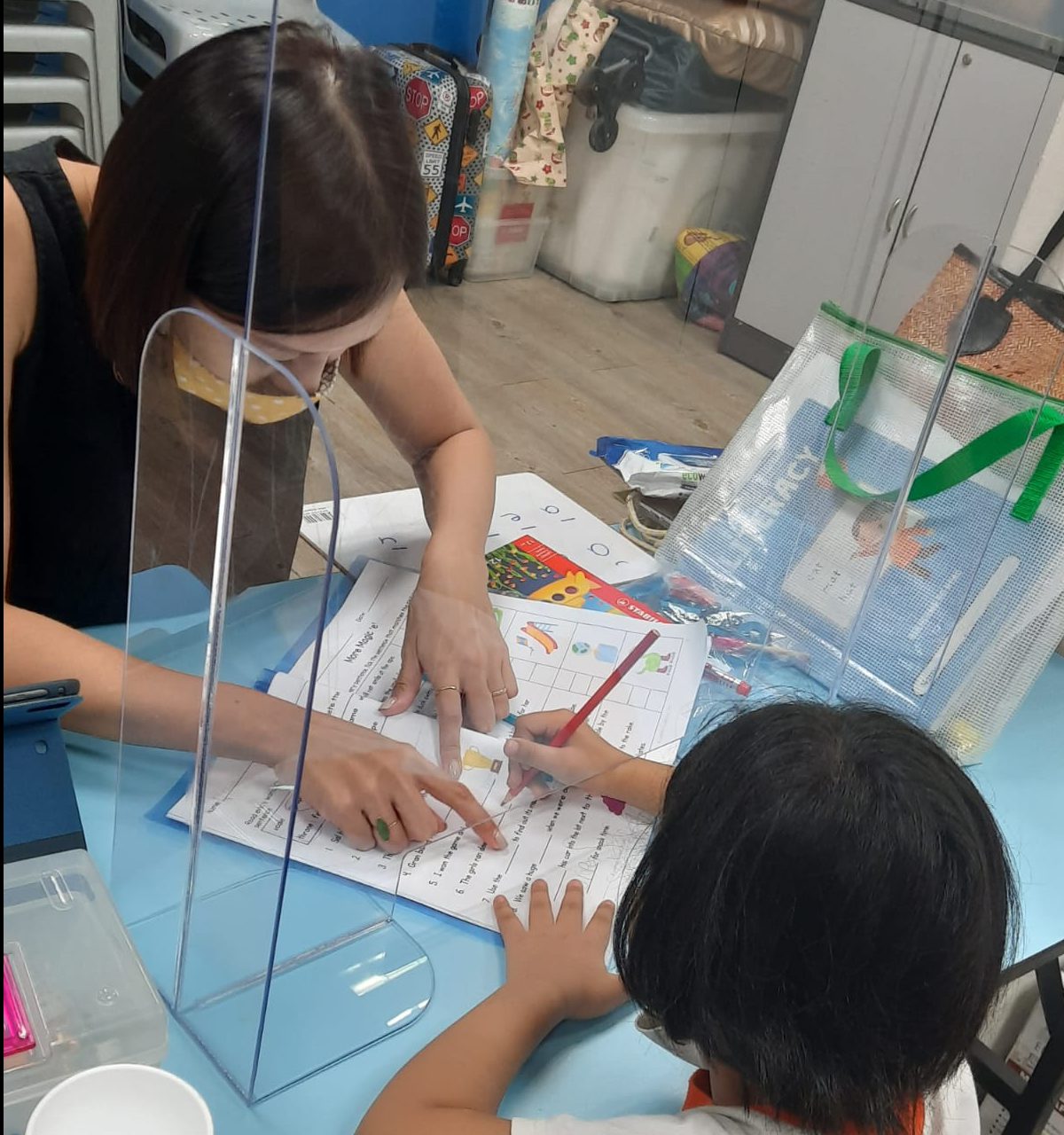 These dynamic, enthusiastic and committed volunteers range in age from 16 up and include working adults as well as tertiary students. We also have siblings, cousins and couples volunteering together. Furthermore, more and more of them are on their 2nd year and beyond, providing much needed long-term support for these children and allowing the ELP's impact to expand and grow. Although COVID-19 continued into ELP 2021, volunteers adjusted well to the new norm and we managed to conduct hybrid online and face to face lessons for children based on their needs.
Hear from our volunteers directly here:
Rachel, one of our youngest ELP volunteers

2. Elizabeth, who works as a School Counselor and is volunteering at ELP@Prison Fellowship Singapore.
Play And Talk
Play & Talk (PAT) is a language stimulation program targeted at 3 to 7 year olds who are learning English as a second language and are at-risk of learning disabilities. These children are from families of low socio-economic status. PAT focuses on social-emotional and cognitive/communication skills to facilitate the acquisition of language and literacy and to better integrate them into the preschool and primary school curriculum.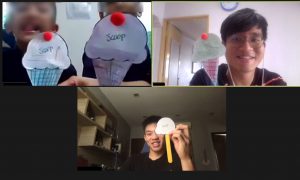 PAT was initiated at Fei Yue Family Service Centre (Champions Way) in 2018. The children under the pilot PAT runs improved in their communication abilities and were able to comfortably socialize with their peers and adult volunteers. The programme was well received by their parents. The programme has continued through the years into 2022, with children who needed the support continuing through several runs.  PAT has impacted about 45 children since the start of the programme.