iShine
iShine Programme
The Need
Students from disadvantaged families usually start behind their peers upon entry to Primary School due to their home situations. This could lead to lower self-esteem and loss of motivation to do well in school.  Their school financial needs are usually covered by government subsidies, but they also need emotional support, regular motivation and nurturing.

The Programme
iShine started as a pilot programme in 2014 with Greendale Primary School. Since 2015, iShine has been running at Punggol Family Service Centre, under AMKFSC Community Services. From 2020, iShine also runs at New Life Community Services.
iShine is a thematic, hands-on exploratory learning programme that takes primary school children beyond their school curriculum. Adult volunteers journey with the children throughout the year-long programme's different themes, spotting hidden talents and newly sparked interests. In so doing, we raise the children's confidence and encourage higher aspirations.
iShine has a collection of 10 themes covering diverse topics ranging from cooking (Junior Masterchef), urban design (Design a City), to understanding different occupations (When I Grow Up). The sessions take place fortnightly and run for 3 hours per session.  Children and volunteers participate in the activities in teams and discuss what they learn together.
Our Partners
PROGRAMME PARTNER
Punggol Family Service Centre, under AMKFSC Community Services, became the programme host for iShine in 2015.
The FSC serves families living in Punggol through casework and counselling services as well as community support services for parents, children and couples.
Find out about Punggol Family Service Centre's experiences here:
New Life Community Services
New Life Community Services is a new programme host for iShine in 2020.
It is the social service arm of the Covenant Evangelical Free Church and serve the communities in the Northwest region, focusing on children.

THEME/SESSION PARTNERS
We have been fortunate to have the support of many partners since 2014. These corporate partners provided the children with unique, unforgettable experiences in various iShine themes. These include, but are not limited to:

Technology and You
Singapore University for Technology and Design (SUTD)'s Rotaract Club
 Design a City
Architectural undergraduate student volunteers from SUTD
When I Grow Up
EQUAL ARK
Punggol Police Station
Changi General Hospital
Changi Airport Group
Our Volunteers
Punggol Family Service Centre has over 20 volunteer-befrienders in iShine 2017, with 11 in their 2nd, 3rd or 4th year.
Hear Lynn share her experience as an iShine volunteer:
A Look at an iShine Theme
Technology and You!
This theme was last conducted in 2016 and was conducted again in 2018. In 2016, we had 4 sessions under "Technology and You".
Session 1 –Team Escape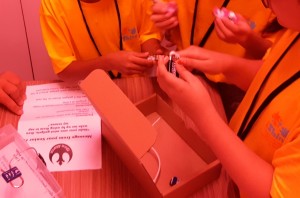 An Escape Room game was set up at Punggol Family Service Centre, under AMKFSC Community Services, with the help of volunteers from Singapore University for Technology and Design (SUTD)'s Rotaract Club.   The participants imagined themselves in the year 2035. A rogue robot, Darth Evil, has arisen in Singapore and has threatened to take over the world with his brain-zapping machine.  The children and volunteers, part of the 'iShine Alliance', had to complete missions in order to be released from a locked 'control room'.  At the end, the teams also worked together to deactivate the brain zapper and save the world.
The activity gave the children a chance to handle technology toys like VR goggles, Little Bits and Circuit Stickers.  The latter two were provided by our theme partner, Tinker Tanker. More importantly, each child also experienced the key message of the day, "I have responsibilities".   It was a very successful first session, with awed "wow"s, sincere "good job"s and victorious "we did it!"s heard from each room.
Session 2 – Make Your Own Game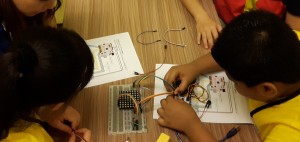 The fun continued in Session 2 where the children made 2 different tech games using software and hardware tools.  The children that started with "software" coded their own games using Code.org's platform.  Then they switched to  "hardware" where they assembled the earliest video game ever made, Pong, on an Arduino-based platform provided by Tinker Tanker.
The idea of coding and assembling hardware had been daunting to some children (and volunteers!) initially but at the end of the session, everyone was proud to write down the key learning message for the day – "I can do it".
Session 3 – Technology with Fun @ SUTD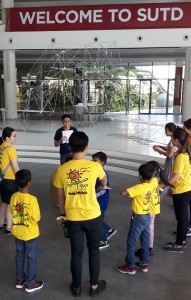 The teams moved out to the  Singapore University of Technology and Design (SUTD).  The SUTD Rotaract Club had designed a 4-station Amazing Race-style activity that saw the children and volunteers roaming the corridors of the University's main teaching block.  The children got to carry out hands-on activities in the  classrooms and tutorial rooms that were the domain of SUTD undergraduates.   The 4 stations covered 3D printing, making a solar-powered toy, folding a paper Super Mario turnstile and learning the importance of communicating ideas through a charades game.  The participants had lunch at the student canteen, then the children completed their journals with the key message "I can perform".
It was the first time any of the children got to spend time in a university, and an impression was made on at least one child who was heard shouting "next time I want to school here!".
Session 4 – Lego Robotics with In3Labs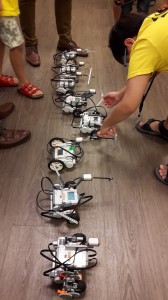 For the final session, the teams built their own robot using Lego Mindstorms in a session led by Yama Min, CEO and Founder of In3Labs, a technology education company.  Yama caught everyone's attention with a video on Honda's Asimo robot, and another on the power of Lego Mindstorms.  The children were then guided to build a 3-wheeled robot, with a touch sensor, that would stop when it hit a barrier.  For the grand finale, all the robots were lined up for a race across the training room.  In the ensuing chaos, no one was sure which robot won, but there was a lot of cheering and clapping nonetheless.  The children noted the key message for the day "I can do more in a team".