A Successful Partnership
Posted by Hsin Ee Chia on November 10, 2016

Vital Tan is a Programme Manager at Care Corner Family Service Centre (Queenstown).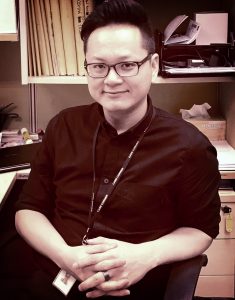 Prior to entering the social service sector, I was working in market research and also co-managed my own boutique interactive agency for a few years, handling mainly web design projects. Through the course of my work, I realised that working with people and doing work that actually matters or makes a positive difference in people's lives really motivated me, hence the move to explore social services, especially in an organisation that nurtures and values relationships, with both its clients and also partners.
In my previous work, we're constantly thinking about strategic partnerships and this continues to be a major aspect of my work in the Family Service Centre, looking for partners that complement us, and vice versa, to reach out into the community to help vulnerable individuals and families, to empower them to enhance their own well-being. EDIS Cares approached us in the same spirit of partnership, to explore and co-design specific programmes like Milk & Diapers and the Early Learning Programme. They shared a similar vision of providing more upstream intervention, to enable and support our clients and more specifically their children, and seeking means to support their early development which would hopefully then open doors for more possibilities for these families.
Both programmes have now run for about 3 yrs, and I am greatly encouraged by the results that we see. With Milk & Diapers, we can see that clients have become more aware of the needs of their young in terms of hygiene and nutrition. There is effort to set aside time for sessions with our social workers whilst allowing clients to take encouraging steps towards being self-sufficient caregivers for their young. Last but not least, the nutritional needs, which can be tied to cognitive development, of the children are met. With the Early Learning Programme, we are also more able to reach out to young children aged 6 & 7 and their parents, to help support the children in reaching academic and developmental milestones appropriate for their age. Through past runs of the programme, we have seen positive results for the children in key aspects including academics, social functioning and confidence. Some of the parents also become more aware of the learning needs of their children through the programme, which is a crucial step towards learning how to support their children's learning.
EDIS Cares brought along not only dedicated staff who worked closely with us in every step of the programmes' development and implementation, but also key resources such as funding, sponsored external expertise, as well as crucial manpower via volunteers from their affiliated networks. Our partnership with EDIS Cares highlights the importance and value of such community partnerships, whereby each partner brings something valuable to the table and together we co-own projects and initiatives, such that there can be more sustainability and potential for growth. Whilst our centre has access to clients and insight into the needs of our clients, our resources and areas of expertise will be limited. By coming together, we can reach out to more vulnerable individuals and families in the community and do more impactful work through our collective resources, skillsets and knowledge.
Share: