The Cry of the Poor
Posted by Darwin on November 8, 2016
Our very first Blog Post is written by Charlene Chua, a pioneer EDIS staff. Charlene was working in the urban development sector in Singapore for 9 years when she felt the need to discern her calling in life. She subsequently spent 5 months in New Zealand attending a spiritual programme and 7 months in Cambodia as a volunteer teacher. Currently based in the Philippines, she continues her process of discernment in a Catholic religious formation house. Charlene's interests are in social issues (especially the marginalised), geography and playing football.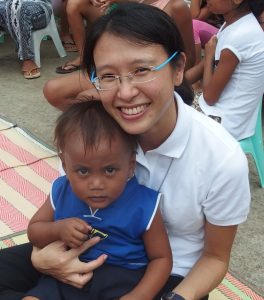 The Cry of the Poor
 As an aspirant undergoing religious formation, my main duties are to study well, pray well and work well. 'Work' entails the responsibilities I am assigned, which can be in the form of cleaning, washing, cooking, preparing for celebrations (there are many in a Salesian house!), etc. While in formation, we are less involved in the active part of the Salesian mission – to reach out to the poor, especially the young, in society.
The sight of the poor is becoming all too familiar. No matter which country I am in, the voiceless poor are crying out.
In Pyin Oo Lwin, Myanmar, a band of beggars live in a squatter next to the train station. Many of them come from other parts of the country in search for a means to survive. Unfortunately, they cannot find work and often resort to stealing.
In New Zealand, there are homeless people sleeping on the streets wrapped in black trash bags to keep themselves warm in winter.
In Singapore, I was told a story of a single mother with 5 children who is doing part-time work so that she has the flexibility in hours to take care of her children. Her single income can barely make ends meet.
Rich or poor, developed or developing, every country has their share of poor. Sometimes they are visible, other times they are hidden. How can this be? Why are there so many people who are suffering? These are questions we should be asking.
At a more personal level, I think we should also be asking ourselves:
Do I want to see the poor?
Do I have the courage to look at the poor in the eye and in good conscience not do anything about it?
What has the poor got to do with me?
It is sad, but this is a question that some people ask or are tempted to ask.
In countries like Singapore where meritocracy is highly lauded, we are taught that if you work hard, you will do well. But is this always true? The fact is that no two human beings are the same. From a genetic point of view, we are born with different abilities and disabilities. From a societal point of view, the options and opportunities available to each person differ, no matter how much we try to even out the playing field.
Arising from our growing individualistic attitudes, the sense of entitlement runs high in some. They believe that what they have earned is through their own effort and hard work, hence everything belongs to them and they have the right to keep it solely for themselves.
We know that historically, man never used to live in such an individualistic manner. Living conditions were often much more communal and things were shared within the community. Those who had more gave to those who had less. In the Singapore context, we do not even have to think too far back. The 'kampong' ('village' in Malay) environment that some of our parents or grandparents lived in in the 1960s was exactly that. The 'kampong spirit' that we sometimes refer to includes the spirit of sharing.
Humans are clearly social beings and are made for community. This necessarily means that we have a responsibility towards others who are part of our community, i.e. the society/world in which we live. How can we live in good conscience when there are so many poor people in our midst?
We Need To Act 
I cannot emphasise enough the urgency of this call to action I am making. There are too many poor, too many people who are living without proper shelter, food, water and sanitation. In a recent BBC report, it says that nearly a fifth of children in developing countries – almost 385 million young lives – are living in extreme poverty, according to the World Bank and UN's children's agency.
So what can you do? Let me suggest some possible ways:
Look for organisations, agencies, interest groups that work with marginalised groups in society. See which you are interested in or moves your heart. Contact them to ask how you can play a part.
Set aside some money each month for a charitable course. Donate to the cause(s) which are most in need or you find meaningful.
Commit to volunteering, whether on your own or with an existing volunteer group.
Start thinking about the causes of these inequalities and injustices and ask yourself how you or anyone you know can do something about it. Social action is important but social justice (ways to alleviate the causes of these inequalities) is even more pertinent.
Unite yourself in spirit with the poor by making some material sacrifices. For example, you could choose to forgo buying an item which you desire, eat one less meal a day or eat less in a meal, make an intentional choice to simplify the way you live, etc.
Pray for the poor and less fortunate every day.
This list is not at all exhaustive but it can be a way to start.
Share: