EDIS Cares Supporters Letter 2019
Posted by Hsin Ee Chia on December 25, 2019
With the launch of "Neither Civil Nor Servant – the Philip Yeo Story" in November 2016, we had committed to our supporters to impact 300 children in the following three years.  From 2017, we began expanding our three programmes, Milk & Diapers ("M&D"), the Early Learning Programme and iShine befriending, to multiple charities. In 2018, we added a new pilot programme, Play and Talk.
Now, at the end of 2019, we are pleased to share that EDIS Cares programmes touched a total of 370 children from 2017 to 2019.  Throughout this period, we maintained regular touchpoints with the children and/or their families through committed volunteers. Children in our programmes are supported for at least 10 sessions (a half year run of Play and Talk), and up to a maximum of close to 30 sessions (a full year run of the Early Learning Programme). Our Milk & Diapers is integrated with an existing family-befriending programme.
We have a video about our impact till 2019 here on our website that showcase pictures from the programmes, as well as interviews with volunteers and a beneficiary.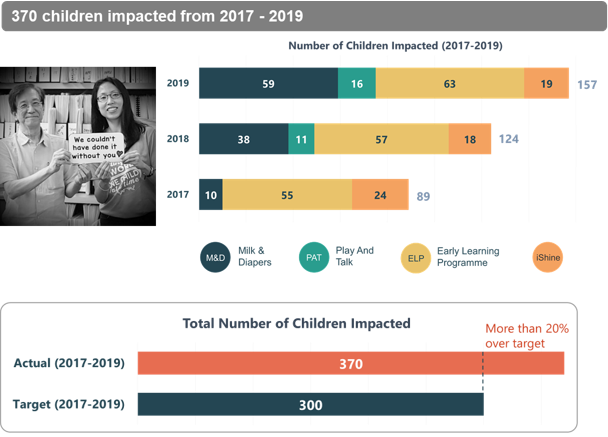 Over the 3 years, our Early Learning Programme (ELP) ran at five charities, with two, FaithActs and Prison Fellowship Singapore, operating the ELP at two sites each. The ELP was developed by the EDIS Cares' team to build the literacy and numeracy foundations of 6-7 year old children who have fallen behind from pre-school. Volunteers were trained on intervention-based approaches and provided with comprehensive teaching materials. The programme saw its biggest impact on children with learning difficulties and/or who were unschooled due to citizenship issues. The literacy scores of some of these children improved 7-fold. We began piloting "ELP+" from 2018, focusing on grammar and reading comprehension, to bridge the children to primary school requirements.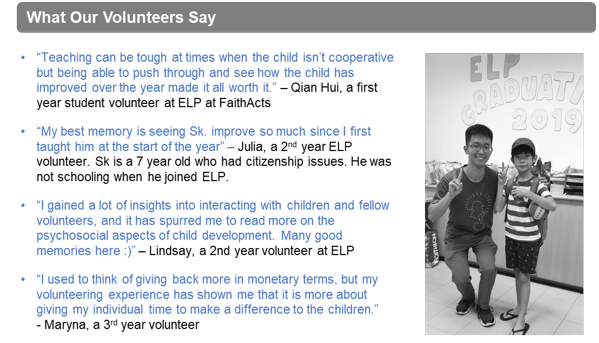 Punggol Family Service Centre under AMKFSC Community Services expanded, iShine, our befriending programme for 8-11 year olds into a "Shining Series" incorporating sessions for caregivers and families. iShine was designed by the EDIS Cares team to be a thematic experiential journey that the children go through with their volunteer mentors. The past three years saw a myriad of sessions under themes ranging from "A Day as a Scientist", "Design a City", to "Art and Nature".  These sessions enabled the children to build positive relationships with their mentors and peers, gain self-confidence and learn emotional regulation skills.
Our Milk and Diapers programme was coupled with a volunteer mentoring programme and piloted at Babes, a charity for teenage mothers in 2017 – this led to Babes setting up a similar programme inhouse called "Stork". In 2018, we extended our support from babies and toddlers to older children as well, through Prison Fellowship Singapore. These children came from families which have at least one parent incarcerated; they are under-nourished due to their families' limited incomes. The supply of UHT milk became daily meal supplements for these school-going children and improved their ability to focus in class.
Finally, a new pilot English language stimulation programme, Play and Talk, was piloted at Fei Yue Family Service Centre (Champions Way) for 3-7 year olds in 2018 and enhanced in 2019. The children benefitted from the chances to play, communicate with adults and to interact with other children in an informal group setting. Over time, the children became more confident, social and vocal, especially those with special needs.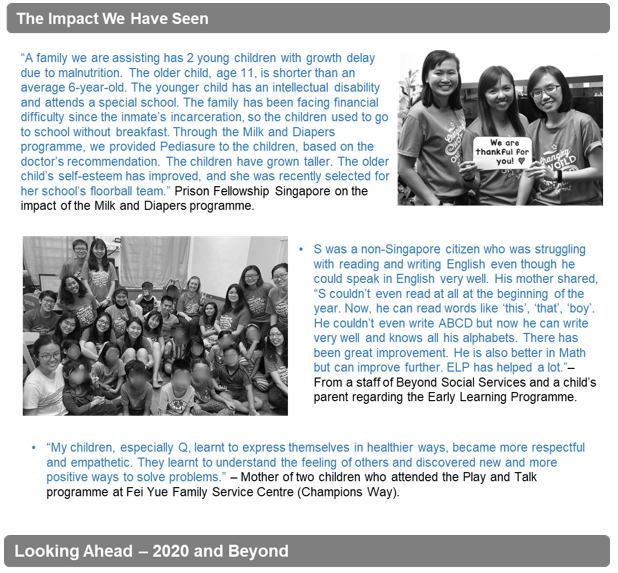 We intend to build on the good work you have enabled in the past 3 years, into 2020 and beyond. Importantly, we have learnt that the key factors that enable our programmes to scale across charities are funding of partial headcount costs, raising volunteer leaders and providing sufficient volunteer training. With this knowledge, we will continue to work with our long-term charity partners to provide our programmes to more children. In addition, we will identify other charities that need similar support.
We have been privileged to be on this journey and to have impacted so many children because of your generous support. This is your impact. Your trust and continued support are greatly appreciated by our team, the charities as well as the children and their families.
Share: