A Volunteer's Impressions
Posted by Hsin Ee Chia on November 10, 2016
Melissa Vegas moved to Singapore from Goa, India in July 2015.  She has a Bachelors in Architecture from Goa College of Architecture, India and a Masters in Built Environment from University College London.  She is currently working as a Senior Designer at Aedas on one of the many MRT projects in Singapore, and volunteered in iShine's "Design A City" theme which ran for 4 Saturdays from July to August 2016. She is also a member of Society of St Vincent de Paul, a Catholic charity dedicated to serving and empowering the poor and under-privileged.  In her free time, she pursues different interests including the arts, heritage, social dancing, trekking and capoeira.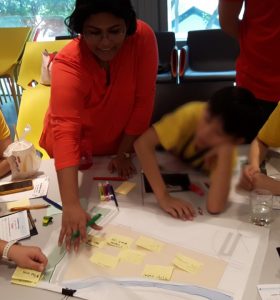 It was a Saturday morning in July, I found myself with a couple of my colleagues in the sunny atrium of the URA building being briefed by a member of the iShine team on the do's and don'ts for volunteering with children. In this instance, with children participating in iShine's Design a City theme. The session today was going to be a tour of the URA city gallery and introduction to their project. Sleep deprived and tired from the work week, I watched, with a hint of apprehension as the kids scampered off the bus and burst through double doors with the energy only children seem to have. The energy was contagious and I was gently nagged into a state of heightened awareness. The iShine Team expertly started directing the children for their tour through the URA galleries. And what followed was a stream of inquiring questions, and clusters around the interactive screens where everyone waited their turn. Finally we settled into our workspace – armed with post-its and colour markers, we set out to design our Dream City in the year 2035! I left the building that day with a feeling of lightness and a much needed change in perspective.
Now is perhaps a good time to mention that I work as an architect, and moved to Singapore for my present job. I am extremely lucky to be part of a very specialized team that designs MRT (Mass Rapid Transit) systems, here in Singapore and the region. My volunteering experience in the past has mainly been centered on befriending seniors and working with kids and would include activities like arts and craft, puzzles and games. This would be the first opportunity I had to combine my design skills with volunteering, a challenging combination for a professional.
Fortunately the programme was well structured and apart from allowing the children to explore architecturally interesting spaces like the URA and Fusionopolis, it was focused on drawing out the children's natural skill set.
For example,
(i) the budgeting activity in the second session helped prioritise various interests and forced each team to come to a democratic consensus;
(ii) the model building in the third session nurtured sensory and material sensitivity;
(iii) Presentations in the last session built self-esteem and public speaking skills.
I learnt early on that there were no lack of ideas and it was best to sit back and make sure every child is heard and included.  Sometimes it's not really in the 'doing', but just 'being' that makes the difference.
My primary challenge with volunteering with children that they need time. As a volunteer it is important to be consistent, as children can get attached quite easily. I remember when I skipped a weekend, I was continually asked why I had not come. Another challenge for me was when the kids, being kids, acted out. This may be in the form of fighting with each other or remaining unresponsive or elusive. It is best to leave situations like these to a core, regular team member or the social worker on-attendance who are trained professionals and know the case history of each child. So when you do decide to volunteer it is important to know from the organizers who are the children you will be working with? Their background? And how and why my appearance (presence) is going to benefit them?
Do I recommend Volunteering? Whether you are in Singapore for a while like me or a local, volunteering helps you get the essence of a country like nothing else. I would say give it a shot; but add that it's not for everyone. If it works for you, that's great! For me, I can say that it makes me grateful and mindful of the world around. And reminds me that there are different ways of being and it's alright. This is why I keep volunteering!
Share: