Gaining Confidence to Volunteer
Posted by Hsin Ee Chia on December 18, 2017
Jane is a retiree.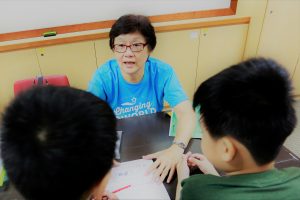 I became a volunteer with Prison Fellowship Singapore ("PFS") in January 2017 and was assigned to tutor a 6 year old boy. As I was not previously trained in early childhood education, I had no idea what he needed to learn and know academically at his age. I tried to read the relevant Ministry of Education framework and guidelines but still could not figure out what needed to be done. I bought some assessment books and hoped that with these I would be able to guide the child on what he did not know/understand. However, I was very worried that it may not help him much as this was not a systematic approach.
Thank God that some time in March 17, PSF collaborated with EDIS Cares to bring in the Early Learning Programme (ELP). We attended a training workshop led by Sharon Yeoh, Literacy Therapist, where we learned how to teach foundational literacy and numeracy. We were given teaching materials and access to online folders where printable materials and video clips for teaching sessions are available. We also received a test to assess the child's academic level before we started ELP lessons. We used that for subsequent review of the child's progress. After the workshop, I became more confident about teaching the child.
I am grateful that Sharon also helped to prepare lesson plans for us for the initial few months. After that she reviewed lesson plans we did until we were more comfortable to do it on our own.
With the support, I was able to teach the child the letter names, letter sounds and sight words.  He is also able to work out the sum of two numbers beyond 10.  When the child got tired of academic work, I had fun exercises to train his other skills.
Time flies and 8 months of my volunteering journey have passed. It has been so fulfilling to walk with the child in his academic development.  I am very glad to see that he has improved in his literacy, numeracy, colouring skill and attention span.
Share: