Faithfully Responding to the Call
Posted by Hsin Ee Chia on June 6, 2020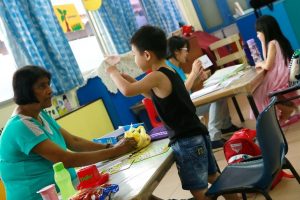 Proverbs 22:6 "Train up a child in the way he should go and when he is old he will not depart from it."
Hello! My name is Elizabeth, and I work as a counsellor in a primary school. One of my passions in life from a very young age has been being to be a spokeswoman for the rights of children. In my career path first as a teacher and later as pastor and counsellor I have always been inevitably drawn to children. Like-wise children find it easy to connect with me and share with me their stories.
Early in 2017, I came to know that my church St Paul's was going to be one of the venues for 'Care Club', a ministry of Prison Fellowship Singapore to children. I felt God's prompting in my heart to respond as a volunteer. The programme's aim was to mentor the children through tuition and character  moulding activities.
As passionate as I was, I felt a little apprehensive: Was I suitable? Was I sufficiently equipped? As I lifted these thoughts to God in prayer, I felt Him asking me to be available and willing to offer my gifts. He would do the rest. I applied and was accepted as a volunteer for the Early Learning Programme (ELP) component of Care Club.
The child I was assigned to was a little boy who had special needs. I again questioned my ability to manage this child effectively even though I had some training. However, at my first meeting with him it was "love at first sight". He was so cute and adorable although challenging at times. God was true to His word. He used all my training as a counsellor and teacher. Most of all, God's wisdom helped me cope with moments in a positive way.
The ELP team were also committed and a source of inspiration. Lesson curriculum for each week was given to the tutors and feedback received each week. This helped to further enhance the teaching and learning taking place. Periodic training sessions were also held to equip us further in our efforts to teach and mentor the children in a positive way. Feedback from volunteers were taken seriously and we made changes so as to minister to the children more effectively.
I also value and respect efforts put into the planning of Care Club as a whole. Beyond the ELP's academic component, Care Club also ministers to the social, emotional, physical, mental and spiritual needs of the children. This is done through fun and creative ways like tele-matches, songs, outings and games. These are things we take for granted but for these children it is about life changing experiences, learning from mistakes, learning to be thankful and mindful of those less fortunate, learning good manners and positive behaviour. I believe that this is an awesome work that will impact their generation and beyond as these children in turn become a source of inspiration and blessing to others.
Share: